As an Amazon affiliate I earn from qualifying purchase at NO extra cost to you.
·Company: Wealthy Affiliate
Founders: Kyle Loudon & Carson Lim
Price: Jaaxy Pro $49/month, Jaaxy Enterprise $99/month
Rating Score: 9.9 Stars out of 10 Stars
Recommendations: Yes
What is Jaaxy Enterprise?
Are you looking for a high-quality, high-performance keyword research tool? Look no further. Jaaxy got you covered. The Jaaxy Enterprise is your dream machine. This research tool can give you everything you need and then some. You get unlimited access to millions of invaluable keywords, get to outrank your competitors, and get high rankings in Google, Bing, and Yahoo.
https://www.jaaxy.com/order?a_aid=edcd52b2
Whether you are starting up a new niche website, hunting for keywords for your next blog content, checking your site rank, or exploring new business ventures, Jaaxy is the go-to power tool that will satisfy all your needs. This search tool provides a plethora of amazing features for search engine optimization such as: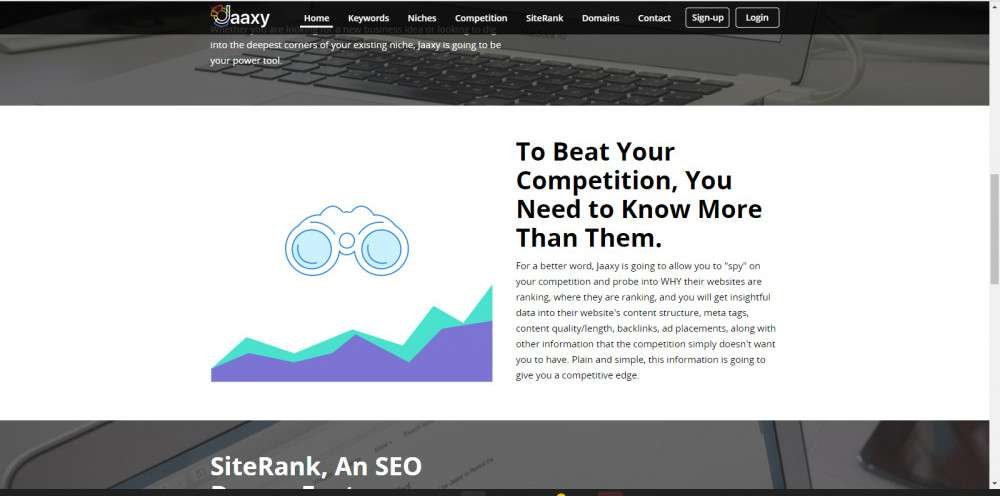 Keyword data metrics
Competitor information
Easy access to millions of keywords
You can optimize and update older blog posts
Mathematically calculate the amount of traffic
Project blog growth
Why Jaaxy Enterprise?
If you are going to start an online business or simply start a blog with the goal to eventually monetize it, keyword research is going to be an invaluable tool. Targeting low-competition keywords will give you a greater chance to rank high in the search engine. In addition, you will master the "low-hanging fruit" concept and take your online business to the next level.
As passionate bloggers, affiliate marketers, and online entrepreneurs, your job is to provide high-quality content on your website. High-quality content gets high ratings. The higher the rank, the more traffic. The more traffic the more revenue. If you plan to take your website to the next level, Jaaxy Enterprise is for you. Signed, sealed, and delivered. It offers you all the following features:
Jaaxy Enterprise Has a Lot of Moving Parts
When you open the Jaaxy application, you will see a row of titles at the top of the screen. From left to right is Keywords, Alphabet Soup, Saved Lists, Search History, Search Analysis, Affiliate Programs and Brainstorm. Overtime these categories will become second nature to you. Let's speak the Jaaxy language: www.jaaxy.com
ALPHABET SOUP: Technique that takes you through the entire alphabet scanning for keywords, helping you come up with all sorts of ideas for content.
SAVED LISTS: You can save all your keywords to a list.
SEARCH HISTORY: All your keywords are automatically stored
SEARCH ANALYSIS: Analyses keywords
BRAINSTORM: Jaaxy does the brainstorming for you.
---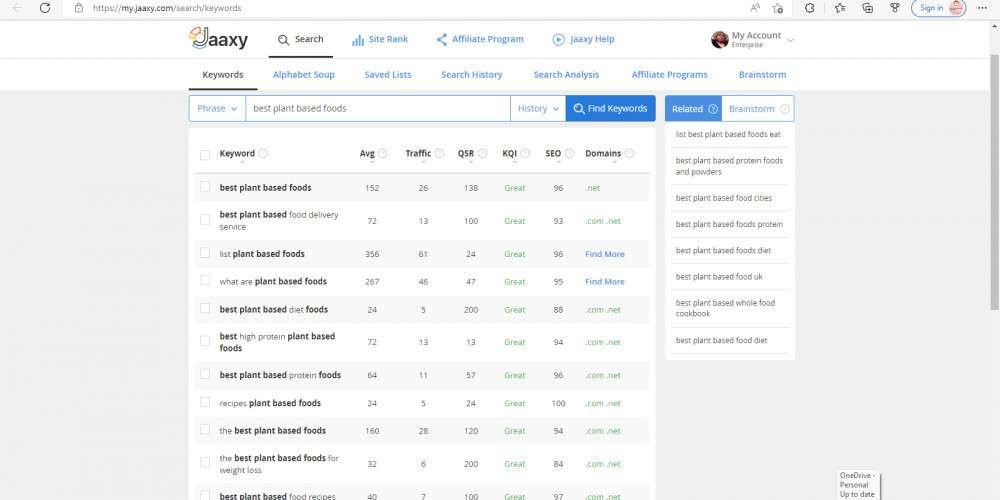 Let's Get This Party Started

These are the Major Categories of Jaaxy
AVR: – Average number of searches that a keyword receives per month.
TRAFFIC: – Shows how many people visit your website per month.
QSR: – Quoted Search Results. Number of competing pages for that term.
KQI: – Keyword Quality Indicator. Green=good, Yellow=medium, Red=not good
SEO: – An SEO score of 95 is very good (based on traffic and competition).
A good rule of thumb: Aim for the keyword with a traffic score rating of 50 or over and a QSR (competition) under 300 to increase your chance of better ranking.
KEYWORDS:
Words and phrases typed into search engines. There are millions of keywords at your service. Once you learn the ropes of Jaaxy, navigation will be a cinch.
DOMAINS:
Availability of domains that are related to the keyword. For example, if my keyword is plant-based foods, I may try to get a domain plantbasedfoods.com. Jaaxy will show if this domain is available.
SITE RANK:
The Jaaxy Keyword Research Tool is really the most remarkable tool there is in Affiliate Marketing today. One of the best advantages is its Site Rank feature. Most people do not realize this or forget that it is at their disposal. Wealthy Affiliate membership price pays because of Jaaxy and hosting – everything else is icing on the cake.
My Own Experience with Jaaxy
After using Jaaxy Pro for the past 8 months I have seen a major increase in my sight rankings. My website is landing in one of the top 3 pages of Google, Bing, or Yahoo. Jaaxy is a powerful, effective keyword research tool that is ultra-friendly, straightforward and enjoyable to use, especially for newbies like me.
Jaaxy isn't only a keyword search tool; it is way more than that. You can do a million things with this tool. You can check up on your site statistics and see what your competitors are doing. Take a closer look to see what this machine can do. Jaaxy can:
Check site traffic
Index keywords
Observe keyword rankings
Check sales and commission earned
https://youtu.be/sbKeewlSje0
Pros -Benefits of Jaaxy Enterprise
Find long-tail keywords
Organize keyword lists
Save keyword lists
Find easy rank for keywords
Filter keywords that aren't popular
Search volume and keyword metrics
The free plan keyword research tool is limited to 30 searches. Some entrepreneurs want more searches at no cost. However, there is a downside when you don't set value on a quality product. Some people will demand more freebies. However, Jaaxy Enterprise a bit pricey if you have a low budget.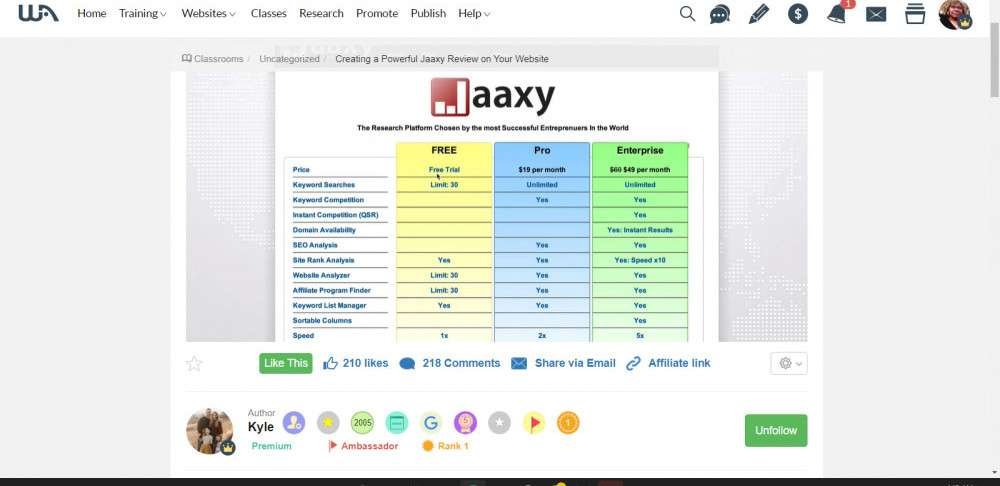 Cons – Jaaxy Enterprise
Costly for those on a low budget
It is a dominant tool for global keyword research
Only in English
Jaaxy is Compatible with Mac or PC
Jaaxy Enterprise needs NO software because it is an online application that is compatible with Mac or PC. It can be downloaded on your computer. It is the ONLY keyword research tool that connects to main affiliate marketing networks such as ShareASale, Commission Junction, and ClickBank. Jaaxy gives you serious data relevant to your audience. For example, it tells you which posts are meeting SEO standards (95 and above).
Jaaxy Supersedes Its Competitors
Although there are official tools such as Google Analytics and Google Search Console which are great for checking traffic and showing how you rank in the search engines, Jaaxy is still one of the best. It surpasses other keyword search engines such as Ahrefs, SEMRush, and KWFinder on many levels. Why?
Jaaxy exceeds all the complications and fluff. Not only is it one of the simplest keyword research tools to use, but in terms of its Site Rank feature, there is no competition out there to surpass it. It allows for automated ranking check-up, so you always know how your site is performing and how it is progressing. No other keyword search tool comes close to Jaaxy.
What are You Waiting for?
If you haven't used Jaaxy's Site Rank feature yet – you're missing out. Why? Because it is next level technology at its best. By the way, Jaaxy is also included in the Premium membership plan. So, join today and get a head start. JAAXY KEYWORDS
The Jaaxy Enterprise Price is Right!
The Pro Plan – $49/month
Brainstorm Feature
Unlimited Keyword Searches
Limited Domain Availability
Keyword List Availability
Save Your Searches to a List
QSR Keyword Competition
3 x Faster Research than Free Plan
"Spy" Your Competitors Analysis
Enterprise Plan – $99/month
The Enterprise Plan, literally, has it all. This is tailored for the experienced internet marketer who needs to compile huge lists for their own or client's blogs or websites. This plan is a cut above the rest. It takes keyword search to a whole other level. With this plan you receive everything the Pro Plan offers plus:
Instant Domain Availability
Alphabet Soup Function (50 results Vs. 15)
Instant Competition Analysis
5 x Faster than the Free Plan
Sortable columns (ascending or descending order)
Disclaimer: If you join Wealthy Affiliate, Jaaxy Pro is included in your membership. It doesn't get any better than this. Other affiliate marketing programs are much more. Some even start at a $5,000 membership plan. This inclusion, in and of itself, is a cause to join.
Who is Jaaxy For?
Jaaxy research tool is for any person or business who wants to sell, promote, or anyone who wants to be found online. It is the perfect go-to for content creators, entrepreneurs, or e-commerce merchants.
Check out website at www.jaaxy.com
What Sets Jaaxy Apart
As a Jaaxy Premium and Pro member you receive state-of-the art training when you sign on. The Online Entrepreneur Certification (OEC) is included in these two plans and cover an in-depth course module of 5 levels. Each level has 10 comprehensive lessons that you can review as many times as you need. The Wealthy Affiliate University is a one-of-a-kind program with an incredible community of like-minded people whose end-goal is to have a successful online business. wealthyaffiliate.com
Get your hands on Jaaxy today and take your online business to the next level. www.jaaxy.com
Rachele, Founder
mybluegenes.com (website)
rachele@mybluegenes.com (email)