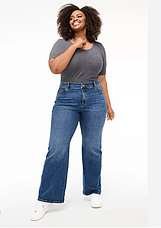 I don't know about you, but I can still remember shopping around the JC Penny's Mall looking for a good girdle. There is no better feeling than having a girdle that you can always depend on. Girdles have come a long way. However, the plus size shapewear bodysuit has made its way into the 21st century right into the lifestyles of the plus size generations.
Can you imagine life without a plus size shapewear bodysuit? I can't. Shapewear is a game-changer. It makes a difference in how you look and feel. Have you tried shapewear? If not, you are missing out. Who needs a tummy tuck or liposuction when you got shapewear added to your wardrobe. Let's dive in and check it out.
What is Shapewear?
According to Wikipedia, shapewear is a foundation undergarment designed to impermanently alter the wearer's body shape, to achieve what some view as a more fashionable figure. The function of a foundation garment is not to enhance a bodily feature but to make it look more presentable.
Also, keep in mind, you don't have to be extremely robust to wear shapewear. As cliché as it sounds, every female with curves wears Spanx or some other brand of shape minimizer. It's the modern-day replacement for a girdle. It has unique characteristics, too.
For example, shapewear is engineered to funnel excess weight that helps you appear to be slimmer. In fact, it can slim you up to 1 to 2 inches. The excess flab is condensed, the same as when you push your hands on your belly to push in the fat. Truth be told it is better than a girdle.
What is the Difference Between Girdle and Shapewear?
One of the primary differences between shapewear and girdles is the different parts of the body they target. Both the body shapers work to smooth out "problem" areas in your silhouette that would otherwise make your clothes not fit well. However, girdles are primarily concerned with smoothing out just one part of your body. Shapewear gives the illusion of being skinny.
How Does Shapewear Make Us Skinny – The Science of Shapewear
There happens to be an art and science behind plus size shapewear bodysuits. They are not just made to help plus size woman look pretty. The plus size fashion experts have elaborated on the bigger picture.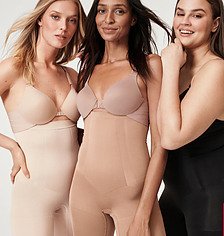 Van Bien:
Shapewear brand Va Bien's co-founder and fit expert Marianne Gimble says, "it makes us skinny by sewing or knitting together elastic or rigid fabrics that are cut into such a pattern that when worn, the finished garment nips and tucks the body.".
Gimble reminds us that "Especially when cut and sewn together – as opposed to knitted seamlessly like hosiery. When cut and sewn, designers can use pinpoint accuracy to 'catch' curves in the perfect places and enhance them. ReSultWear has a different spin on shapewear.
ReSultWear
As the shapewear designer of ReSultWear, Kiana Anvaripour claims that "Properly fit undergarments improve your posture, your confidence, and the way you walk, which gives you an all-over sleeker physique. Gimble talks about the accuracy of shapewear.
Gimble:
Hosiery-style seamless knitting, by contrast, tends to flatten curves, and both techniques slim the body, just in different ways." Plus size designing is now at the cutting edge of technology. You can be assured that there is shapewear for every size, shape, and type that caters to a growing population.
Types of Plus Size Shapewear Bodysuit
Some the most popular brands of shapewear include the following:
Shapellx:
PowerConceal Ultra Comfy Body Shaper. Mid-thigh length. Tummy control shapewear holds in your core, shapes and lifts your butt and chest, and smooths your upper thighs. Made of breathable mesh material, easy and comfortable for all-day long-wearing, perfectly contour to your unique curves while allowing ideal airflow. It features:

All over support from bust to thighs
Adjustable and stretchy shoulder strap
Anti-bacterial, breathable, and eco-friendly
Support top, smooth tummy, and butt lift
Spanx:
Suit Your Fancy Plunge Low-Back Mid-Thigh Bodysuit. This is every girl's dream suit. The ultimate low-back, low-front solution for when you're getting glam! Adjustable and convertible straps offer versatility, while sleek shaping fabric works invisibly "backstage" to ensure your style gets all the applause.
Yitty:
Nearly Naked Shaping Thong Bodysuit. Created by body positivity activist and singer, Lizzo in partnership with Fabletics. It is available in sizes 5X through XS/S. This Nearly Naked Shaping Bodysuit has light control and is available in a range of colors including non-traditional shapewear shades like unstoppable yellow and tempo lavender.
The thong silhouette helps eliminate the fear of panty lines. However, I would suggest sizing up one size for this bodysuit. Although I love the styles at Fabletics, I always buy a size larger.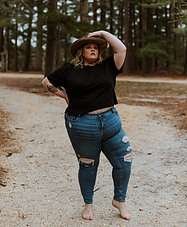 Best Shapewear for Lower Belly Pouch (FUPA)
Best Overall Tummy Shapewear – Spanx Oncore Mid-Thigh Bodysuit
Best Plus Size Tummy Shapewear – FeelinGirl Shapewear for women
Best Cami Shapewear – Maidenform Flexees Shapewear Women's Comfort Devotion Cami
Best Thigh Shapewear – Leonisa Tummy Control Shaper Short for Women
The Three Levels of Support
Smooth: The most minimal, this type feels like a second skin.
Shape: Firm and slim specific areas
Sculpt: Through maximum compression, sculpt totally transform your figure.
Is it better to size up or down in shapewear?
Sizing up or down will, clearly, depend on the brand and company. While brands like Fabletics run about a sizer smaller than average, other brands make run larger, and you will need to go for a smaller size.
Can Shapewear Make You a Size Smaller?
Amy Sparano, senior vice president of sales and merchandising of It Figures, points out that with skimpy shapewear, excess fat is pushed up over the waistband of a bikini pant, for example, creating the "muffin top" look. "With appropriate coverage of the torso, the control fabric holds the body in a smaller area, making the body appear thinner and smaller." Should you choose to wear shapewear every day, choose the size that fits.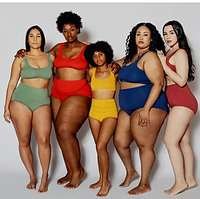 What if You Wear Body Shaper Every Day?
Be aware of trying to fit the U.S. into New York. Various reports have pointed out that the constriction that happens when wearing shapewear causes blood clots, acid reflux, and breathing problems. However, if worn properly in the right way, there is no health implications at all.
Gimble adds that shapewear can actually have health benefits. It can stimulate circulation and provide support to muscles. This is true. I have worn shapewear for a very long time, and it has a real benefit to my health as stated. It gives me confidence and I, personally, will not be caught without it. It is a part of my fashion repertoire. Seems like my fat just disappears in thin air (lol).
Where Does All the Fat Go?
For anyone who wears shapewear (a significant portion of the population) they will tell you that it works. It slims, lifts, smoothes out lines, and supports. But wait a minute, how does the magic happen? What happens to my fat?
According to Gimble:
"fat moves into spaces where muscle is compressed, such as the abs. It can also be moved directionally, towards more desirable places.
Jason Scarlatti:
Creative director of men's brand 2(x)ist Underwear
explains that the flab is just made more compact. He also believes that shapewear is "engineered to funnel excess weight to help you appear to be slimmer. The excess flab is condensed, the same way as when you have your hand on your belly to push in the fat."
Another Shapewear Expert:
Explains that if the shapewear is well-designed, the fat comes out in a sexier and more appropriate place like your breasts/cleavage and butt. In my experience, shapewear is a complete game-changer when you need to look and feel your best. In fact, I find that my shapewear is low maintenance. So, what are you waiting for dolls? Let's get this party started.
Final Thoughts
Wasn't this an awesome tour of plus size shapewear? These are absolutely a must-add to every plus size girl's wardrobe. When you look your best, you also feel your best. Moreover, I am looking forward to having an intimate dialogue with you regarding your shapewear story. Let's get to know each other and keep in touch. Let me know if you love your shapewear so you can share your story with me. How did you feel after wearing your shapewear? What is your favorite brand or types? Please let me know in the comments below. I am glad we shared this time together and I am looking forward to hearing from you.
Rachele, Founder
Web: mybluegenes.com
Email: rachele@mybluegenes.com