As an Amazon affiliate I earn from qualifying purchases at no cost to you
REVIEW SPECIFICATIONS
Brand: Shaquille O'Neal Zethus High-Back Executive Chair
Weight Capacity and Stability: 400 lbs.
Seat and Backrest Design: Waterfall seat and AIR lumbar system
Adjustability: Supports your frame with maximum flexibility. Adjustable height
Armrests and Headrests: High back with headrest. Provides support and comfort
Material and Build Quality: Bonded Brown leather Upholstery
Recommendations: Yes
Rating Scores: 4.5 Stars out of 5 at Home Depot
Customer Review: Extremely pleased. "I'm a bigger guy and It's not easy to find a good sturdy comfortable chair to sit in for long periods of time, glad I made the purchase." "Awesome chair with all the right features." 2023. Check YouTube: https://youtu.be/dkfwJTrWQqiw
Price Range: $499.99.
OVERVIEW
COMFORTABLE SEATING FOR FULL-FIGURES
These executive chairs are custom design for hefty, robust bodies. Some of them are GREENGUARD certified for low chemical emissions: UL.COM/GG -UL 2818. They are ranked in two tiers: Certified and Gold. These chairs are extremely heavy and/or oversized and may need more than one person to handle them.
Comfortable Seating with Less Emissions
Less harsh chemicals – made with fewer harsh chemicals, or safer chemicals than typical alternatives, helping reduce your use of and exposure to substances that may be more harmful to your health and the environment. The Shaquille O'Neal Zethus high-back executive chair has individually wrapped coils and cool reaction memory foam to ensure all day comfort. The bonded leather upholstery delivers style.
PURPOSE OF THIS REVIEW
The purpose of this review is to educate you about the types of ergonomic office chairs for heavier people. I will highlight the benefits and features of each chair with its weight capacity, adjustability, its upholstery, pros and cons, and other relevant parts.
MY PERSONAL EXPERIENCE
A friend of mine lost her job and had to find a way to raise money to pay her bills. As a result, she organized a yard sale and was able to make a few dollars selling a lot of her household belongings. One of the things was an older model of an ergonomic office chair. Needless to say, it was a godsend. This one was swivel and had a rocking feature that made my days happier every time I sat in it. I enjoyed my chair for many years. Now I am planning on buying a new one. You won't regret having s one of these gems in your life. It was nice to sit in an ergonomic chair at the end of a long day. In fact, I write my first manual for my first book while sitting in my comfort chair.
TOP 3 ERGONOMIC CHAIRS FOR FULL-FIGURES
CHAIR 1 DURAMONT ERGONOMIC OFFICE CHAIR (Amazon)
Weight Capacity and Stability: 330 lbs.
Seat and Backrest Design: Fully adjustable desk chair with lumbar support
Adjustability: Adjustable back support
Armrests and Headrests: Sturdy arm and headrests
Material and Build Quality: High quality material, soft cushion seat, rollerblade caster wheels that allow you to move easily across the office floor. Breathable mesh.
Pros and Cons: You can find a position that make your back feel most comfortable. Excellent build. Sound structurally, great back support, rollerblade wheels, and very comfortable. Cons: Only good for sitting short periods of time. Great if you are on a tight budget and limited adjustability.
Can be assembled in eight simple steps. The chair has pneumatic controls that allow you to adjust to your individual needs.
Performance and Functionality: Comfortable, pain management and support. Work comfortably for hours. 100% money-back guarantee. Try it for 90 days. You can return it if you are not satisfied.
Customer Reviews: "Excellent" | "More adjustable than any other chair in the class"| "breathable"| "adjustable back support" |"Easy to install."
Rating Score: 9.8 Stars out of 10 Stars
CHAIR 2 GABRYLLY ERGONOMIC MESH OFFICE CHAIR
Brand: Gabrylly
Style: Modern
Dimensions: The whole chair including the arms: 25.6" x 22" D x 45.3"- 54.9" H. The seat dimensions: 20" W x 19.3" D X 18.5"-22.05"H
Weight Capacity and Stability: 280 lbs.
Seat and Backrest Design: High back desk chair. Ergonomic lumbar support
Adjustability: Adjustable height, 3 Stage tilt-back
Armrests and Headrests: Adjustable headrest with Flip-up arms
Material and Build Quality: Breathable mesh chair. Resists abrasion. Can sit for 4-8 hours. Easy insulation. Five-year warranty.
Pros and Cons: Easy assembly in 15-20 minutes.
Performance and Functionality: Tilt function, PU wheels, swivel computer task chair. Colors: Black and Grey
Customer Review: "Easy to assemble" | "You can sit for long periods time without pain" | It is a space saver" | "personalized, affordable comfort" |
Price: $289.50 Accessories extra.
Rating Score: 9.8 Stars out of 10 Stars
The ergonomic office chair provides 4 supporting points (head/back/hips/hands and a proper back support. Suitable for people of about 5'5" to 6'2" (please refer to the height of the user). It is easy to adjust seat height, headrest, backrest, and flip-up arms, and it accommodates different body forms. Good for sitting long hours.
CHAIR 3 SECRETLAB XL SERIES GAMING CHAIR
Weight Capacity and Stability: 390 lbs. Supported size: 108-208 cm (5'9" – 6'10")
Dimensions:
Packaging and Assembly:
Seat and Backrest Design: Back support integrated into the chair
Adjustability: Adjustable backrest 85% – 165%
Armrests and Bedrests: 4D
Material and Build Quality: High density cold foam (new formula)
Coating: PU leather (new version) or fabric (Softweave fabric)
Pros and Cons: Very large, especially the seat. Very comfortable, and excellent build quality. Cons: Very pricey and there is low availability. This chair is only available on the Secretlab website. Lack of available colors.
Performance and Functionality: At first it may seem still or uncomfortable. The foam is high-density and has to conform to your body type.
Rating Score: 4.9 Stars out of 5 Stars (Titan)

Customer review: "The head cushion is very comfortable" | "After the memory foam adapts to the curves of your body it is fantastic. It feels like a cloud" | The back support is also excellent." | "The annoying back pain I had with other chairs id non-existent after sitting for long hours." | "The build quality is exceptional and the whole experience has been fantastic."
Ergonomic Chairs for Rugbymen
With the capacity of 390 pounds, it will accommodate all the rugby men you know without a hitch. Moreover, it can support people measuring up to 208 cm, so you're your basketball friends will be fine sitting in this chair.
Secretlab Emulates a Rocking Chair
There is also a rocking chair mechanism (reinforced to accommodate heavy loads). The chair is a variant of the Secretlab Titan. These chairs are intended for people with a large build and/or tall. They are nothing less than a premium product.
Secretlab Gaming Chair is Customizable
These chairs are built to be highly customizable and feature a wide range of adjustments. A handy sizing calculator is included with your purpose. It will help you decide which size (Small, Regular, or XL) suits you best, based on your height and weight. It is recommended that you check Secretlab's resource page for the full measurements of each size.
WHO ARE THESE CHAIRS FOR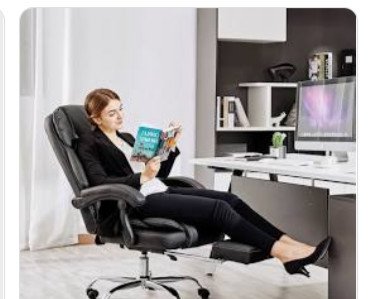 If you like or have no interest in gaming, are 390 pounds or less, and want a comfortable chair to sit in for long hours at a time, this chair is for you. It has lumbar support for your back. It is constructed the high-quality materials. The armrests are excellent and provide good support to the elbows. They are 4D, which means they move in 4 directions: forward and backwards, up, down, sideways, and rotating.
WHO ARE THESE CHAIRS NOT FOR
The standard weight limit for most office chairs is 250 lbs. because it is thought to accommodate most people. However, these chairs are not designed for smaller or petite persons. The seat height is not low enough. In addition, the armrests are not adjustable enough. The built-in lumbar support doesn't fit. Therefore, there are limited chairs on the market for short people and the ergonomic office chairs for heavier people is not a good fit for smaller, shorter, or petite persons.
CONCLUSION
Finding a good ergonomic chair that accommodates a larger physic can be a daunting task. That's why I have narrowed the task down to the top three in my opinion. Of course, there are plenty more to choose from. However, whatever chair you sect make sure it meets the following criteria: weight capacity, bigger seat dimensions, comfortable padding, and an ergonomic design.
Rachele, Founder
mybluegenes.com
rachele@mybluegenes.com