More than half of the world's population will be overweight by 2035 without significant action, according to a new Reuters report. The World Obesity Federation's 2023 atlas predicts that 51% of the world, or more than 4 billion people, will be oversized within the next 12 years. This is not good news for everyone except for the manufacturers of the best oversized recliners.
Best Oversized Recliners
With this emerging population of people, particularly adults, the need for the best oversized recliners is rising exponentially. People are looking forward to kickback in the comfort and convenience of their own homes. If you are a part of this population, have no worries, this article got you covered. Let's dive into why People need oversized recliners.
Why People Need Oversized Recliners?
Many people need more space when they want to relax. Oversized is nothing new. This segment of the population includes celebrities, journalists, doctors, lawyers, dentists, mental health clinicians, musicians, engineers, entertainers, educators, politicians, artists, gamers, gardeners, realtors, travelers, those in leadership positions and every other profession in between. Shall we explore some of these reasons?
Various Reasons for Oversized Recliners
One of the main reasons for purchasing an oversized recliner is comfort and convenience. People are also looking for a chair that is sturdy and safe along with a chair that will nurture their aches and pains at the end of the day. Here is a list of things to look for in your new chair:
Comfort: An oversized recliner provides more space and cushioning. his allows heavier individuals to feel more comfortable while seated.
Support: Heavier folks require additional support for their backs and legs. This is provided by an oversized recliner with extra padding and a sturdy frame.
Safety: A regular recliner is not able to support the weight of a heavier individual. This leads to accidents and injuries. An oversized recliner with a higher weight capacity provides greater safety and stability.
Health concerns: People who are overweight suffer from conditions such as joint pain, back pain, and sleep apnea. An oversized recliner with built-in massager or heat therapy relieves the pain points. These chairs support heavier weights.
How Much Weight Can a Oversized Recliner Hold?
Although most recliners hold up to 250 pounds, the weight capacity of a big recliner varies according to the specific model and manufacturer. Some heavy- duty recliners are able to support as much as 500-600 pounds.
Check Weight Capacity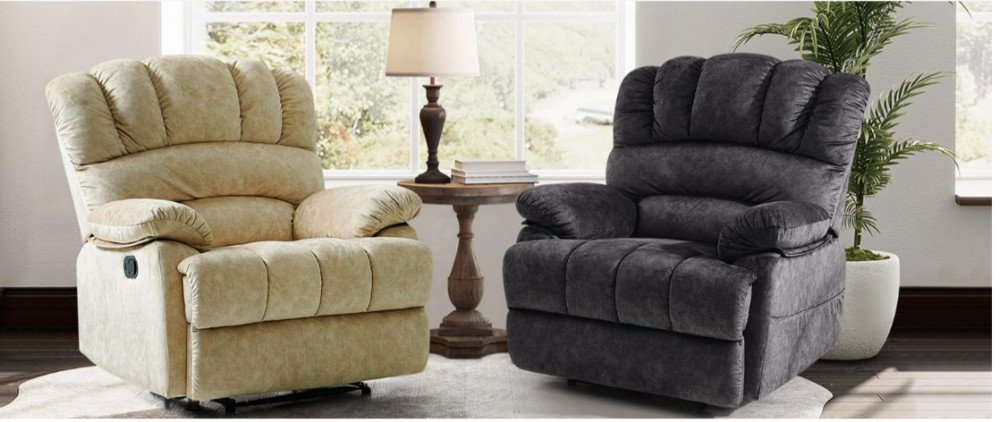 Always make sure you check the weight capacity prior to purchasing your recliners, especially if you plan to use your chair frequently. Exceeding the weight capacity of a recliner causes it to break or malfunction. This is a recipe for injury and pain. Let's see what these recliners do.
What Do Oversized Recliners Do?
Extra-large recliner chairs support tall and heavy people. Their structure offers exceptional weight capacity to support people who do not fit in the regular size chairs. Moreover, people spend long hours on the recliners to relax. These chairs offer hours of comfort and relaxation. Let's find out more about oversized recliners.
What is Considered an Oversized Recliner?
Oversized chairs are also called "chair-and-a-half." They are larger than standard chairs but smaller than a love seat. Oversized recliner chairs measure roughly 50" or wider. Most oversized chair dimensions include a 38 – 39 inches height, a 51-55 inches width, and a 39 -40 inches depth. It is easy to measure your recliner.
How To Measure for a Space
To measure your recliner for a designated space or area in your home, consider a few dimensions. 1) Measure the recliner's width – from outer edge of one armrest to the other – at its reclining length. 2) Top edge to the bottom edge of the footrest while reclined. Once you have these dimensions, measure the width and length of the area in which you plan to place the recliner to determine if it will fit. Always allow for peripheral space.
Allow for Peripheral Space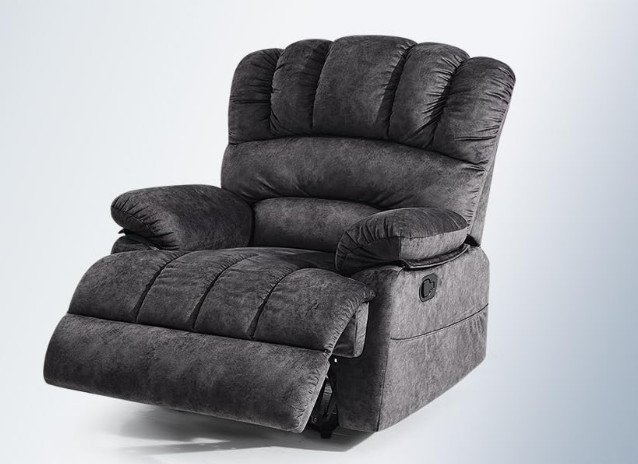 For example, if your recliner, at full recline, measures 72 inches long and 36 inches wide, then you need an area at least 80 inches long and 40 inches wide to accommodate the chair, walking, rising space and other pieces of furniture (Living Spaces). These are not cheap but they are cost-effective recliners.
Why are Recliners So Expensive?
More technology and thought goes into the design of a recliner than a regular chair in your living room. As a result, recliners cost more than the average leather or fabric chairs. However, considering the quality, they are not really overpriced.
Are Lazy Boy Chairs Overpriced?
Recliners are not costly if you consider their benefits, but if you compare them with a normal sofa, they are within the normal price range. They are made of high-quality materials and construction and their pieces tend to be on the higher end of the price spectrum. If you are confined to a tight budget, Lazy Boy furniture is not the best brand to buy. On the other hand, they are precious and seem to last forever.
How Long Will My Recliner Last?
The life expectancy of a recliner runs anywhere from 7-10 years. It depends on how you take care of it. With proper care and treatment, some Lazy-boy chairs have lasted 20 years, particularly if they are 100% genuine leather. Maybe these chairs were not used continuously, who knows. Every case scenario is different. A good quality leather add hundreds (or thousands) of dollars to the price of reclining furniture. Let's dive into the anatomy of an oversized chair.
The Anatomy of an Oversized Recliner Chair
A recliner seat is just like an armchair or sofa that reclines when the occupant lowers the chair's back and raises its front. It has a backrest that tilts back, and often a footrest that will extend automatically when the back is reclined. These chairs come in all colors, sizes, and dimensions. You will find them at Amazon, Walmart, Wayfair and other major department stores.
The Pros and Cons of a Big Recliner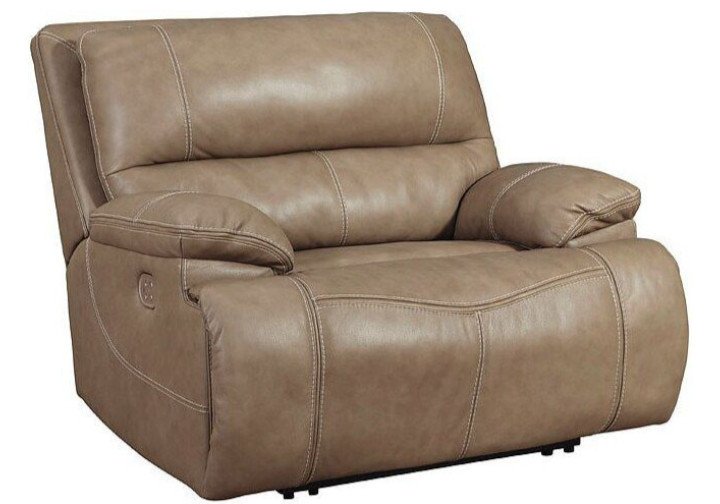 Each recliner has their own pros and cons. Although they are more comfortable than general movie theater seats, they are considerably expensive. (Quora). Here are two top brands for 2023.
Which Oversized Recliner is the Best in 2023?
Ashley Ricmen Leather Adjustable Oversized Power Recliner. This is the top of the line. It has a 4.4 Stars out of 5 Stars rating.
Mcombo 7040 Electric Lift Recliner 9.9 Stars out of 10 Stars
Both are available at Amazon
What to Look for in a Recliner Chair?
When you choose to buy a high functioning oversized recliner there are litany of features to consider such as:
The Number of positions is the most important feature.
Make sure it fits your body.
Type of Covering
Living area
Advanced features
The Best Time of Year to Buy a Recliner
The ideal time to purchase your chair is toward the end of the winter (January and February) or the end of the summer (August and September). Retailers discount their old stock during these months to make room for the new styles. In my humble opinion, a recliner is a real godsend. I highly recommend buying one, whether its during winter or summer. Here's my thoughts.
My Personal Spin on Oversized Recliners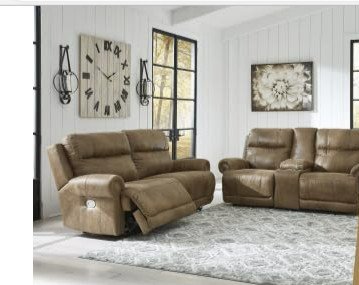 These are some amazing revolutionary inventions. The design and functionality are through the roof. From my perspective, they are Badass chairs. They are well-built, high-quality and are capable of lasting decades. The super soft design provides ample space for you to stretch out and unwind, while the heat and massage function helps soothe sore muscles. In addition, there are cuddler recliners to consider.
---
Cuddler Recliners
A cuddler recliner is for people who enjoy relaxing with a loved one. Otherwise, known as an oversized recliner chair, it's a cheaper alternative to couches or love seats. Although they are somewhat like a recliner, a cuddler recliner allows you to cuddle with your partner or pet.
Cuddler recliners have large seat cushions that offer greater comfort and support. These recliners come in a variety of styles and have multiple features. The spacious recliner allows your legs to stretch over the footrests so you can rock back and forth. There is also a pull buckle behind the armrest, so the cuddle chair reclines in two positions at 110- and 145-degrees angles. However, partial assembly is required. In addition, there are many pros and cons to examine.
Pros of Your Recliner
Comfort
Easy to assemble
Durable
USB port
Cons of Your Recliner
Some chair parts do not stay together.
Only six-month warranty
Manual or automatic operation
Top Cuddle Chair Recliners
This luxury recliner is ideal for those who enjoy relaxing in comfort. They are made with high-density foam and microfiber, offering greater capacity so two people experience enjoyment while sitting together. The head and back has extra padding, making it even more comfortable than most chairs. Cuddle chairs are fully equipped.
The Cuddle Chair is Equipped with:
A Recline level trigger
Chair adjusts to different positions
Equipped with a footrest
Full leg space
Two-point lumbar massage soothes muscles (by choice)
Soothing Mechanisms
Some cuddle chairs come with power motion capabilities designed to tailor to your lounging experience exactly to your comfort preferences. This is a combination of old-fashioned armchair comfort with modern-day reclining technology. You extend the life of your chair by doing your aftercare routine.
Aftercare of Your Oversized Recliner
The recliner must be regularly dusted. Use a small attachment brush on your vacuum cleaner. The dusting prevents any scouring of the surface. Any spills have to be cleaned instantly, using a soft and dry cloth. Make sure you don't rub in the spill. Instead, gently blot dry. See the YouTube video: https://youtu.be/aJdUdDYsGm4
Frequently Asked Questions
Where Do I Buy My Oversized Chair?
Walmart, Amazon, Living Spaces, Wayfair, Brookstone
How Many People Can Fit in a Cuddle Chair?
They are specifically designed for two people.
How Often Do Healthy Couples Cuddle?
This really depends on the couple. In a few reported studies on cuddling, in committed romantic relationships, the average amount of time spent cuddling is about 30-40 minutes and occurs 3 to 5 times a week. Couples will typically cuddle in bed pre- and post-sex- and post-sex, as well as in the mornings.
Are Cuddle Chairs Comfortable?
These chairs are extremely comfortable once you find the right fit for your body type.
What is Considered an oversized Recliner?
Oversized recliner chairs measure roughly 50" or wider. Most oversized chair dimensions include a 38 to 39" height, a 51 to 55" wide, and 39 – 40" depth. These large chairs often weigh approximately
How Much Weight Can an Oversized Recliner Hold?
Some recliners can hold up to 500 pounds. Another excellent option is a gaming chair. They are also made of high-quality material.
How Do You Know if a Recliner is the Right Size for You?
The size of the recliner depends on your available room space. Larger recliners are made to fit 6 feet 3 inches, and larger people. A good rule of thumb, when reclined, your feet should not dangle much over the edge of the chair.
How Do I Choose a Good Recliner Chair?
Explore different types of recliner bases and styles. They come with a variety of bases, so choose depending on how you want your chair to operate. For example, swivel gliders don't just recline back. They also rotate so you can twist anyway. Rocker gliders can rock back and forth, while lift chairs make it easy for you to get up out of your recliner when you are ready to stand again. Choose one that is customized to fit you.
What are the Pros and Cons of Manual vs. Power Recliners?
Power recliners are much easier to use. They require very little bodily strength. A truly luxe experience: you only need to press a button. There are a few drawbacks. They are much heavier and must be situated near an outlet to work. In addition, the motors can burn out over time.
 
Final Thoughts
Not everyone has the luxury to own a high-quality reclining chair. So, if you are privileged to be able to own and operate one, kudos to you. This is everyone's dream chair. Because we live in a land of abundance there is an array of chairs for everyone, regardless of your size. Why not live your best life. Invest in a high-quality chair.
Invest in an Oversized High-Quality Chair
I know from experience that these recliner chairs have amazing benefits and have the potential to give you a higher quality of life. They give you relaxation, support your back, and relieve pain. That said, do a little research prior to making your purchase. Many of these chairs are available on Amazon, Wayfair, and other major departments stores. It is an investment you will not regret. A high-quality recliner chair will not disappoint.
Rachele, Founder
(website) mybluegenes.com
(email) rachele@mybluegenes.com