As an Amazon affiliate I earn from qualifying purchases at NO extra cost to you
The purpose of this article is to give you relevant information about the current home delivered meals available in your area. However, each program comes with its own variations so, it is always wise to do your own research prior to making any decisions.
Home Delivered Meals
Home delivered meals are great alternatives to conventional meals that are cooked at home. There may or may not be meal preparation, shopping or cooking involved. Your delicious meals are delivered to your front door. You'll be surprised at how many types there are.
Types of Home Delivered Meals
The best thing to do is to do a little research. Check out the reviews and also see what your other associates are eating. There are so many types to choose from. Many of my previous co-workers are die hard Blue Apron fans. However, there is an inordinate number of people who opt for HelloFresh and other similar home delivery plans. Let's get started. We begin with my top 3 home delivered meal plans:
Metabolic Meals 5/5 Stars
Home Chef 9.9 Stars
HelloFresh 9.8 Stars
What is a Metabolic Meal?
A metabolic diet is a style or pattern of eating where the goal is to increase your metabolism or metabolic rate. Your basal metabolic rate (BMR) is the baseline amount of energy or calories needed to keep the body functioning if it were at rest. This differs from person to person based on body composition.
Metabolic Meal plans are flexible and commitment-free. You are in charge, you skip meals, cancel anytime, and customize your meal plan at any time. Here's what to expect. https://youtu.be/Q59XbGPXYUI
What to Expect from Metabolic Meals
You get expert-crafted, fully prepared, delivered fresh meals that are ready to re-heat and heat. The Metabolic Meal's culinary team is dedicated to crafting incredible meals that support athletes, students, retirees, and families of all sizes. These meals help you reach your weight, performance, and health goals without sacrificing flavor. Easily pick your meals based on your diet, allergy, and taste preferences. Keep in mind, these are flexible, commitment-free meals. Here's Brittany's Metabolic meals review. 
Metabolic Meal Reviews
Brittany Verified Reviewer ⭐⭐⭐⭐⭐
Brittany wanted a meal delivery system that could meet her dietary needs of gluten free, soy free and artificial sweeteners free. Metabolic meals passed all those requirements. She found so many options to choose from. Then she concluded that " All the meals I have received are delicious and filling. I love that I have a variety in my diet but also have less cooking." Brittany gives Metabolic Meals a 5-Star rating out of 5 Stars. Another fan of metabolic meals is Carmen. Here's her story.
Carmen Verified Reviewer ⭐⭐⭐⭐⭐
Carmen's testimonial says it all – "Metabolic Meals make my life easier…from selecting the many delicious meal choices every week, to not having to guess what I will pack for my lunch every morning. An added bonus is the meals are healthy and realistic portion sizes." She also gives Metabolic Meals a 5-Star rating.
Metabolic Meals are Great for Weight Loss
Metabolic meals helped me reach and maintain my weight goals. Another great aspect is there is no contract. So, if I know there is a week I will be traveling or have dinner plans a couple of nights, I skip my delivery that week. My whole family enjoys these meals. Another brand to check out is Home Chef meals.
---
A Full List of Home Chef's Offerings
Culinary Collection – premium meal kits with higher-quality ingredients
Express – meals kits ready in 15 minutes or less
Fast & Fresh- oven-ready and micro-wave ready meals
Oven-Ready – meals that arrive in an oven-ready tray
Family – dishes that are only available in 4 or more servings
Plus – include premium ingredients
The Fast and Fresh are More Expensive
The Fast & Fresh prepared meals, Plus Meals, or those in the Culinary Collection are sold at a higher price point, and you'll have to opt-in to receive those. You do this by logging in, go to the Subscription tab, and turn on opt-in.
Select and Schedule Menus
Home Chef lets you order up to 6 recipes, regardless of how your selections break down between these menus. This is more than most of its competitors. You schedule your menus up to 5 weeks in advance. If you have questions, check the FAQs.
FAQs Home Chef Meals
What is a Full Step by Step Recipe?
Another option is the full step-by-step recipe for any of the meals online. This makes it easy to decide whether a recipe is right for your skill level or the amount of prep you're willing to do. Be prepared Have your kitchen supplies in the ready.
What Type of Meals are There?
In addition to standard meal kits, Home Chef includes 3 or 4 Culinary Collection meals each week. For an additional charge (sometimes just a few bucks per serving). These recipes offer premium ingredients such as mahi-mahi, sirloin steak, and truffle potatoes, and have slightly more recipes.
What is Home-Delivered Meals?
With Home Chef, you have 30 meals to choose from each week. The menu is organized by meal type, including meal kits, easy prep kits, bundles, and extras. The meals are delivered to your front door, weekly or monthly.
What Type of Home Chef Meals are There?
Meal kits are Home Chef's main offering, they come with recipe cards and all the ingredients needed to bring these dishes to life (with the exception of some pantry staples, such as oil).
In addition to standard meal kits, Home Chef includes 3 or 4 Culinary Collection meals each week. For an additional charge (sometimes just a few bucks per serving), these recipes offer premium ingredients such as mahi-mahi, sirloin steak, and truffle potatoes, and have slightly more recipes.
How Much Do They Cost?
The costs of home-delivered meals vary from one service to the next. Meals start at $7.99. They are extremely affordable based on what you save by not shopping and you shorten your food preparation.
Why Choose Home Delivered Meals?
There are a multitude of reasons why people choose home delivered meals. Some people are just too busy to shop or cook. It is a time saver and takes the pressure off of being in the kitchen. Others simply have no kitchen skills whatsoever.
There is always a meal delivery service that suits your individual lifestyle. These services cater to all types of specialized diets such as vegan, vegetarian, or folks with dietary restrictions etc. Meal delivery is great place to start.
What to Look for in a Meal Delivery Service?
If you are looking to maximize convenience, consider prepared plans such as Freshly or Fresh and Easy, with meals ready to eat in just 3 minutes. Even if you enjoy cooking but are tired of food waste and grocery shopping, consider meal kits such as Home Chef or Hello Fresh, where you cook recipes from carefully packed, fresh ingredients in 30 minutes.
All Meal Delivered Meals Aren't Created Equal
Most services are accommodating, but all meal delivery services aren't created equal when it comes to dietary restrictions. Sun Basket, Purple Carrot and Green Chef stand out with the widest range of keto, vegan, and organic options. Every meal from Freshly is 100% certified gluten-free. Other factors to consider include cost per serving, delivery fees, cancellation policy, menu size and flexibility.
Do Meal Delivery Services Really Save Me Time and Money?
While it depends on how much you spent previously, not worried about what to have for dinner translates to time saved. Pre-portioned ingredients cut down on tedious cooking tasks and reduces the cost of food wasted from buying and preparing too much. One meal kit company organized a 10-week study and showed a 75% lower cost for its customers compared to shopping at nationwide grocers.
Are Meal Delivery Services Eco-friendly?
Reduction in food waste and car trips to the grocery store are key eco-friendly features of all meal kit delivery services. The companies are aware of the need to be environmentally friendly in their practices as well. In fact, many are opting for recyclable packaging, more sustainable farming practices, and some are managing to be carbon neutral. 
How do I Choose the Best Meal Delivery Service for Me?
First, check out the weekly menu on the company website and see if it appeals to you. Many services also have additional features, like extra pantry items or referral programs, which are critical factors for you. New customer deals help motivate you to pick one plan or another. With all the options available, just select one based on your household needs.
Meal Delivery Services Save You Time and Money?
It is expensive to find high-quality, sustainable ingredients from the grocery store. With a meal delivery service, you simply select the meals you want for the week and have fresh ingredients included right in the offer price.
Access Promotions and Deals:
Instead of searching for deals or cutting coupons, meal delivery services offer frequent promos and deals for first-time and returning customers. Moreover, you spend less on fresh ingredients.
Eliminate Food Wastes:
We all experience food waste at one time or another. You buy expensive, fresh ingredients from the grocery store, only to throw them out after a week. With vegan meal delivery services, you only get the ingredients you'll actually use.
Avoid Trips to the Grocery Store:
Each trip to the grocery store is a drain on your gas tank and your free time. With vegan meal delivery services, you get ingredients and ready-made meals delivered directly to your door.
Pros
Huge range of low-prep and no-prep-options
Order up to 6 recipes per week
A la carte breakfast and dessert add-ons
Include meals of different serving size within the same order
Current deal: Get 18 Free Meals (50% off your first 4 boxes)!
Cons
No plan for single-person ordering
You can only customize proteins, not sides
Individual meal pricing is confusing
Customer Reviews
1) I'm pleased to report that I had a pretty perfect experience with Home Chef.
I'd been recommended Home Chef's service by a couple of friends – and kept seeing the ads all over my social media feeds – so I was excited to finally test it out for myself.
My weekly menu varied, the sign-up and delivery process were smooth, and the foolproof recipes brought me out of my comfort zone in the best way possible. I also loved how many customization options are on the menu.
2) I'm not an expert cook, but Home Chef gave me the confidence to cook new dishes
 This included salmon, for the first time. Compared to the many other meal kits I've tested; Home Chef's recipes were among the easiest to follow.
3) For Someone with Allergies
Despite the extensive customization options, I found that Home Chef isn't a great choice for people with allergies or specialized diets like vegan or keto – however, you'll find options for these diets on Green Chef's Menu.
4) For Everyone Else
But for everyone else – Home Chef is a great meal kit delivery service with a variety of cuisines, diet plans, and quick and easy recipes and so many types of orders.
Diet Options: Vegetarian, low-calorie, low carbohydrates
Meal Options on the Home Chef Menu
On Home Chef's Sign-up-page, you'll see 2 different plans: Home Chef and Fresh and Easy. Here is the difference:
Home Chef is the signature plan where you choose from the full menu of cuisines, cook times, and meat types. It gives you the freedom to choose meals from both Home Chef and Fresh and Easy menus.
Fresh and Easy is more limited in terms of options as it focuses only on quick and easy meals.
Meal Kits for Every Skill Level
Home Chef offers a range of meal kit types for every skill level – from standard 30-minute kits to ready meals, making it one of the most versatile meal kit delivery services out there. The majority of dishes are customizable and there are plenty of extras to mix and match to build your own meals.
Meal Delivery Services Save You Time and Money?
Finding high-quality, sustainable ingredients from the grocery store is expensive. My home delivered meals arrived at my door step every single month. I selected the meals each month. All fresh ingredients are included right in the offer price. Don't forget the promotions and other incentives. Check out : https://youtu.be/evpCjQhgQgo
My Personal Experience
I had a wonderful, personal love relationship with home delivered meals for three months. My meals were hand delivered on time every single month. The food was delivered in a white container that looked like a cooler to keep things cold. However, it also contained dry ice. Inside was jam packed with meals, snacks, soups, desserts and delicious shakes. So, you have to have a big refrigerator on hand.
By the way, I was still in school so it took a few minutes to pack my lunch; no stress involved. After a minute in the microwave, the aroma was intense. The smell of lasagna was a head-turner. Another benefit of my pre-cooked meals is that there is no shopping, cooking, or food preparation to deal with. As a result, I lost over 25 pounds. Nutrisystem helped me get my life back.
This is not a choice that every makes. However, it was a nice way to start my weight loss journey, hassle free and I got in an excellent deal. Also, look into their promotions. Here is a link to Marie Osborne's success story with Nutrisystem:
Marie Osborne Testimony
Although Nutrisystem is one of my favorite diet programs, it's not on everyone's A-list. However, it is a major hit with singer/celebrity, Marie Osborne. After losing both of her parents to heart disease, weight loss became one of her primary goals. While on Nutrisystem, she lost a whopping 50 pounds.
Marie turned to Nutrisystem because it was a perfect fit, and it has helped her achieve lasting weight loss success. She lost the weight and is keeping it off. She feels more upbeat every day.
She continues to sing the Nutrisystem praises "I have so much energy now… I haven't had this kind of energy in at least 10 years and I feel better and I feel younger, too." Here are Marie's five weight loss diet secrets:
Nutrisystem made dieting easy.
Showed Marie the importance of breakfast.
Didn't make her give up her favorite foods.
Helped her stop making excuses.
Nutrisystem is always there when she put on a few pounds.
Who Home Delivered Meals are for
For the most part, home delivered meals are for anyone looking to add a healthy, high-quality rainbow of fresh vegetables, whole grains, and healthy macronutrients to their diet. If you are pressed for time and have limited cooking skills, these meals are a godsend. This is your lucky day.
---
Who Home Delivered Meals Aren't for
However, if your household follows a specific diet, like Keto, Paleo, or Vegan, HelloFresh is not the best fit. No worries, though. Instead, you have the option of Green Chef, which is owned by HelloFresh. Moreover, if HelloFresh is out of your budget, you are still in luck. Check out EveryPlate. It's also owned by HelloFresh and offers budget meals starting at only $4.99 – $5.89 per serving. No one is left out in the cold. Visit the FAQ section to find out more about a product.
Frequently Asked Questions
Is HelloFresh worth it for my family?
Yes. It is a fantastic meal plan for your family. Just as long as your family doesn't have any specific dietary needs, and you can afford to pay more than grocery store prices for the convenience of HelloFresh. T hen it is worth it. It offers plans for up to four people.
 In fact, it saves a lot of time on meal planning and grocery shopping, which is a big plus for a lot of households, in and of itself. There are tons of options to choose from, so it is easier to choose what's best for your family. HelloFresh has several kid-friendly recipes – the Meatballs with Bulgogi Sauce is a hit for many kids.
What is HelloFresh?
HelloFresh is a meal kit delivery service that offers weekly shipments of recipes and groceries. This allows you to make easy and appealing meals at home. These are not ready to heat and eat meals.
·         The boxes contain pre-portioned ingredients to help you prepare your meals. Sauces, seasoning, and garnishes are provided.
·         You choose a meal plan or allow HelloFresh to choose which meals you receive. Select from more than 40 rotating recipes to build a custom menu. You can also skip a week at any time.
·         The service is a great way to reduce the burden of meal planning and grocery shopping. It's also a good option if you enjoy cooking but simply don't have enough time for extensive meal prep.
·         HelloFresh is reasonably priced and offers family-friendly recipes. However, it is not ideal for those with special dietary needs.
How much does HelloFresh cost per week?
HelloFresh meals cost about $9-$12.50 per person per meal. You get the lowest price per serving by ordering the largest plan size: six recipes per week for four people.
What is the most popular plan size?
HelloFresh's most popular plan size is three recipes per week for two people. This works out to $9.99 per serving per box.
When are the meals delivered?
Meals are delivered weekly and typically arrive 1 or 2 days after they have been shipped. Ingredients arrive in insulated boxes with ice.
Who is HelloFresh for?
HelloFresh is an ideal fit for families or households with no specific dietary needs like gluten-free or strict vegan. It offers a few meals for picky eaters. It is also a great choice if you want to learn how to cook.. The recipes are fairly simply and are prepared in about 30 minutes.
Recipe Cards Included
The recipe cards are extremely detailed and include photos. It's likely that you will be able to successfully cook the meals even if you're totally new to cooking.
Are HelloFresh meals easy to prepare?
HelloFresh tries to make sure its customers have a pleasant, positive experience in the kitchen. It stands by its claim that adults of any skill level can cook the recipes it provides using relatively simple methods using common kitchen items:
·         Large, full-color step-by-step photos
·         A list of kitchen tools and staple ingredients you'll need
·         One or two helpful tips for prep
·         An estimated prep times
Many of the ingredients are sent completely fresh, so you'll need to prep the veggies and prepare simple sauces using the ingredients you receive.
Is it hard to cancel HelloFresh?
No. The cancelation comes at no charge. However, the service bills you for the pre-scheduled orders if you don't manage to cancel your plan at least 5 days before you receive the food box. Also, make changes to your subscription such as cancel, reactivate your subscription, adjust your box size or update your address ("Subscription Adjustments") at any time.
What is HelloFresh accused of using?
HelloFresh, the German meal kit company, announced it stopped using coconut milk from Thailand this year. There were allegations by the animal rights advocacy group PETA of the use of forced monkey labor in the coconut industry there. 
Is HelloFresh worth it for a family?
As long as your household has no specific dietary restrictions, and you can afford to pay more than grocery store prices for your meal plans.
Is HelloFresh a good way to lose weight?
Although HelloFresh is not a weight loss diet, per se, one of its meal plans is the Fit & Wholesome option. Each of the meals clock in about 650 calories per serving that are dietitian-approved. If you are eating at a calorie deficit, then weight loss is expected. However, it is not guaranteed.
Diet Friendliness
It is not ideal if you're strictly following a vegan, paleo, or keto diet.
Yes. It is a fantastic meal plan for your family. Just as long as your family doesn't have any specific dietary needs, and you can afford to pay more than grocery store prices for the convenience of HelloFresh. Then it is worth it. It offers plans for up to four people. Are you ready to sign up to save time on meal planning?
Save Time on Meal Planning and Shopping
In fact, it saves a lot of time on meal planning and grocery shopping, which is a big plus for a lot of households, in and of itself. There are tons of options to choose from, so it is easier to choose what's best for your family. HelloFresh has several kid-friendly recipes – the Meatballs with Bulgogi Sauce is a hit for many kids. Let check and compare brands.
Comparison Charts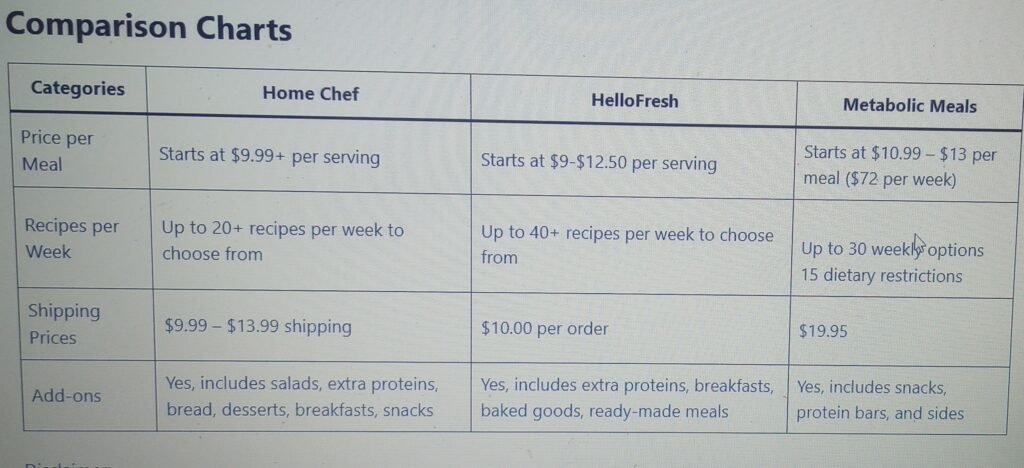 Please note that the information provided is based on general research and varies depending on the specific vendors, offers and promotions available at the time of your inquiry. It's always a good idea to visit the official websites of each brand for the most up-to-date and accurate information. Also note the time saved in shopping and food preparations.
The Above HelloFresh Comparison with Competitors
This table compares and contrasts HelloFresh with other popular meal kit delivery services. Note that this table includes only meal kit delivery services, not services that deliver fully prepared meals.
Several competitors ship completely cooked and assembled meals to your door, including BistroMD, Fresh n'Lean, and Freshly.
HelloFresh offers weekly meal kits for two or four people. You can select 2-6 recipes each week.
The six meal plans are:
Meat & Veggies
Veggie (vegetarian)
Family Friendly
Fit & Wholesome
Quick and Easy
Pescatarian
Just so you know, you don't have to stick strictly to your chosen to plan. You get to select from the full menu each week. Let's explore the pros and cons of HelloFresh.
Pros of HelloFresh
Meal kit service that delivers groceries directly to your door
Offers a variety of flavorful, easy-to-prepare meals
Provides vegetarian, pescatarian, and reduced-calorie meal plans
Priced similarly to or lower than competitors
Offers new users free shipping and discounts on their first or several shipments.
Cons of HelloFresh
May not be convenient as meal delivery services that eliminate the need to cook
No exclusively gluten- or allergen-free meal options
There's no meal plans for stricter diets like keto, paleo, or vegan
$9.99 shipping fee per box
Brand Reputation
Customers are generally happy with HelloFresh. In cases where there's an issue with an order or with its ingredients, reviewers say customer service at HelloFresh is extremely helpful and responsive.
According to HelloFresh reviews on Yelp and Reddit, the meals taste good, but the ingredients are fairly basic, the recipes may be excessively complicated, or the ingredients sometimes arrive damaged. Here's what customers are saying.
Customer Reviews
SaVanna: 31-year-old Freelancer
"I liked that HelloFresh offered so many different meals each week, and that several of them sound like meals my kids would enjoy. I liked that the meals include vegetables, and that it's easy to make low-carb swaps for myself while I prepare the complete meal for the family."
"Over the past year, I have tested almost every single meal kit available. I think experiencing so many meal kit services allowed me to be more aware of the true pros and cons of these services and what a customer should expect from them."
Adults of any Skill level Can Cook
HelloFresh profess that adults of any skill level are able to cook the recipes using relatively simple methods with common kitchen items such as:
Large, full-color step-by-step photos
A list of kitchen tools and staple ingredients you'll need
One or two helpful tips for prep
An estimated prep times
Ingredient Quality and Freshness
HelloFresh focuses on sourcing high quality ingredients. The company includes fresh produce with most recipes, and some of the items are organic. It also sources meat and poultry from suppliers that adhere to federal safety regulations. These meals provide sustainable, "ocean-friendly" seafood and feature appealing flavors across a variety of regional cuisines. For example:
Here are a few recipe examples on a weekly menu:
Zucchini and Mushroom Bibimbap Bowls
Salsa Verde Enchiladas
Pork Schnitzel
Caramelized Apple Cheddar Melts
Pork Sausage Rigatoni in a Creamy Sauce
Many of the ingredients arrive completely fresh, so you'll need to prep the veggies and prepare simple sauces using the ingredients you receive. At the end of a long, purpose-driven day, you sit down with family or friends to enjoy a delicious, nutritious meal, if possible. Eating healthy foods is one of the ways to optimize your health.
Final Thoughts
Oftentimes, there is no time to shop, prepare and cook or our cooking skills are slim to none. So, the next best route to take is home delivered meals. If the price is right, meals are delivered to your home. Why not? If you want to create your own meals, meal-kits are another great way to add creativity to your cooking skills. There is something for everyone.
What are you waiting for? Give it a twirl. It will change your perspective of home delivered meals altogether. Despite the critics who have nothing better to do than look for trouble, get into the game of home delivered meals. Make the best choices for yourself and your family. You deserve the best.
Rachele, Founder
­(w) mybluegenes.com
(e) rachele@mybluegenes.com