As an Amazon Affiliate, I earn from qualifying purchases at NO cost to you.
The Best Laser Regrowth Cap of 2022
Brand: iRestore Cap
Product Dimensions: 10.9 x 909 x 606 inches
Color: Red and White
Item Weight: 1.74 pounds
Manufacturer: iRestore
Material:
Item Model Number: ID-500
Batteries: 1 Product Specific batteries required.
Price: iRestore Essential ($695) iRestore Professional ($1169)
Rating Score: 4.5 stars out of 5 stars
Features:
The iRestore Low Level Laser Therapy Cap can treat hair loss and can grow hair. There are two hands free models: The iRestore Essential and the iRestore Professional. Next to laser combs, the iRestore is one of the best for effectiveness. Treatment with laser combs may cause a little shedding. Using the laser combs too often can overstimulate the hair follicles. The irestore LLLT cap the number 1 device for the treatment of thinning hair and hair loss in general. It is the best laser regrowth hair cap in 2022.
The Best Laser Regrowth Caps:

Low-Level Laser Caps are medical devices. They are for men and women looking to improve the health of their hair. Their hair may be thinning or balding and they want to restore their hair growth. Some people want to thicken or strengthen their hair strands. iRestore has the best laser regrowth growth caps in the world.
In Comparison to Hair Transplants
Compared to hair transplants, laser caps are cheap. Transplants can cost between $4,000-$15,000. They are the same as cosmetic surgery. You will have to pay out-of-pocket. Transplants can carry more health risks than laser caps.
FDA- Cleared:
The iRestore has been FDA cleared. The Food and Drug Administration will test every medical device. This ensures that the product is safe for the public.
Portability:
iRestore is safe for home use. Having the luxury to do a low-level laser treatment in the comfort of your own home is a plus. It's OK if you don't have to make an appointment with your dermatologist. One of iRestore's best feature is that it is convenient and portable. You can move freely around your home. This device can be used this at home, work or at play. It will not interfere with your usual day to day activities.
Drug Free:
You do not have to worry about getting a prescription filled. iRestore is drug free. There are no harsh chemicals involved. The red-light therapy is safe and there are no side effects.
Money-Back-Guarantee:
iRestore manufacturers stand by their products 100%.
Pros and Cons:
Pros:
Hair is a big part of our identity. It is a female's greatest asset. We style our hair to look our best. Hair helps shape our personality. It keeps our head warm when it's cold. Hair covers our skull. When we lose our hair, we also lose our confidence and self-esteem. Low-level Laser Therapy can, essentially, turn the tables of hair loss. This hair treatment is non-invasive. It is also chemical free. The best of both worlds. Are you ready to shine?
Cons:
Laser therapy is generally safe. As a precautionary measure, never look directly into the laser for an extended amount of time. To avoid damage to the eyes. Always read your manual or buyer's guide and follow the manufacturer's instructions.
We Need the Best Regrowth Caps
This is the $64,000 question. Hair loss is a hot topic nowadays. Millions of people have succumbed to the devastation of hair loss. Anyone any age can have hair loss. Both men and women are feeling the sting. Let's dive in and see what we can find.
There is a litany of reasons why we lose our hair. Can you think of a few? Let me help you out. The most common causes of hair loss are hereditary conditions. It happens
naturally
as we age. This is male pattern baldness in men and female pattern baldness in women. Hair follicles begin to shrink, and the hair will stop growing. Hair loss can start at any age. Women will notice hair loss when they part their hair. Men will lose hair around their crown and temple
Causes of hair loss include vitamin deficiencies, hormonal imbalances, medical conditions, and medication.
Who it's for:
LLLT is an advisable alternative if you worry about the side effects. Are you worried about medication risks, worry no more? There are none. You say you don't want to undergo a hair transplant; this is for you. Studies show that LLLT is completely safe for hair loss treatment. Do you want to thicken, strengthen and regrow your hair? You are in the right place at the right time. Would you like another treatment regime or want to upgrade to low-level laser therapy. iRestore is your ticket to better hair.
Who it's Not For:
Low-level Laser light does not work for everyone. Have you suffered with complete baldness for many years? Laser light cannot help when there is permanent damage to the scalp. Lower-level lasers are not used on cancer patients. To be on the safe side, laser light therapy is not recommended for nursing or pregnant women. Do you have a sensitivity to light? Please avoid being around low-level laser light.
Areas of Caution:
Dark colors of Birthmarks or tattoos will absorb the laser energy. The laser should focus away from these areas. Your Laser specialist can adjust the treatment as they see fit.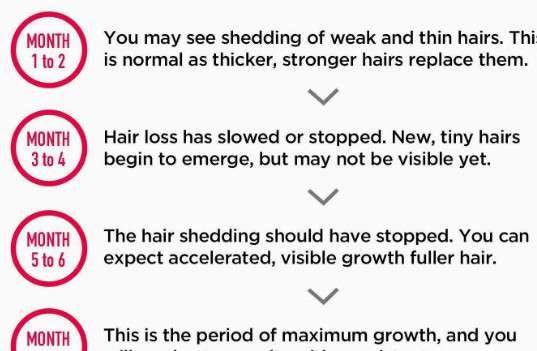 Case Study:
Indian Journal of Psychiatry, 2018
This study concluded that hair loss is a side effect of psychotropic drugs. Methylphenidate (stimulant) causes nervousness, loss of appetite, weight loss, headaches, nausea, vomiting. It also causes hair loss. One of their 6-year-old patients had significant hair loss after taking ADHD medications. The child's hair loss was due to his medication. When the patient stopped taking the medication, his hair began to grow again. This type of hair loss may be uncommon.
Other Medications that can Trigger Hair Loss:
Lithium
Valproic Acid
Fluoxetine
Sertraline
Amphetamines
The key to successful hair growth is to get into treatment at the onset of hair loss.
Other Hair Loss Scenarios:

Childbirth
Divorce
Loss of a loved one
Over treated hair (perms, dyes, relaxants)
-Women who wear their hair pulled back into tight ponytails are more susceptible to hair loss. This is called Traction Alopecia.
-Polycystic Ovary Syndrome (PCOS) can lead to cysts on a woman's ovaries. This hormonal imbalance can lead to hair loss.
Note:
Wearing Braids Leads to Hair Loss over Time.
My sister, niece, and cousin wore braids for many years. They all suffered from hair loss. The braids caused stress on the scalp. All three of them ended up with baldness around the edges of their head. Nowadays, women can wear protective hairstyles. Many women are resorting back to natural hair styles. Extensions, weaves, and hair systems are a major part of the beauty culture. Not everyone can be born with a beautiful head of hair.
Who is a Good Candidate as a Reseller?
Business owners can become a reseller of the iRestore product line. You can contact one of their local branches.
Amazon is a major stakeholder when it comes to the sale of goods and services. The iRestore Low-Level Laser Essential Cap is one of their bestsellers.
Other resellers:
Hair transplant surgeons
Hair Salon owners
Physicians, dermatologists, trichologists
Anti-aging clinics
Health and beauty stores
Laser hair therapy clinics
Businesses that sell health and beauty products/services
Stringent Money Back Guarantee
Consumers who are not satisfied within the first 180 days
Contact Freedom Laser Therapy to request a refund.
Freedom Laser also offers a 12-month Money-Back-Guarantee
iRestore Laser Hair Growth System (Essential and Professional). International orders may be subject to custom authority or taxes. Free shipping on orders over $40 that are shipped within the United States.
My Experience with Hair Loss
Maintaining a healthy lifestyle is one way to prevent hair loss. Eating a diet rich in fruits and vegetables is important. Our body need nutrition to supply us with energy for optimal health. We also need sufficient sleep, water, exercise and fresh air. By age 25, I had none of the above.
My diet was almost non-existent. I spent weeks and months on crash diets. Not only did I lose a ton of weight, I also lost a lot of hair. This was the most embarrassing times of my life. I was one of the lucky ones. My supervisor, at the time, was a macrobiotic enthusiast who recruited me as one of her students. The rest is history. To this day I strive to live a healthy lifestyle.
I am still struggling with some degree of hair loss. In 2012, I was diagnosed with Alopecia Areata.
Had I known about low-level laser therapy, I would have opted to grow my hair back. It looks like I am going to have to live with what I have.
My Take Home to Anyone Struggling with Hair Loss
I do not take any strand of my hair for granted. I avoid stress at all costs. Healthy, nutritious meals, drinking lots of water, getting 7-8 hours of sleep is key. Regular exercise is a must. Healthy hair is not a given. Do the best you can. Another word to the wise- an investment in self-care will pay off. Hair is an important part of our identity. Pay close attention. Do you notice the slightest loss of hair? Check out iRestore low-level laser therapy right away. What have you got to lose? No pun intended.
My Final Rating:
The iRestore low-level laser cap is a phenomenal product. This device has been FDA cleared and it lives up to its name. Clinical studies showed its effectiveness in receding hairline and baldness. iRestore can reactivate dormant hair cells. A 2017 clinical study of male and female participants showed a 43 % increase in hair growth. Hair grows back fuller, thicker, and much stronger.
Low-level laser therapy can combine with other types of treatment. It works well with Finasteride (Propecia) or Minoxidil (Rogaine). iRestore is #3 in personal care Products. It is in the top three level. This is outstanding news.
Low-level laser is less invasive than a hair transplant and less expensive. The red light can rejuvenate the thinning hair. Laser wavelengths help to increase the blood circulation to the hair follicles.
Bonus Features:
Rechargeable battery last for a week on a full charge.

Hair restoration bundle

Shampoo
3-in-1 Hair Growth Formula
Vitamin Gummies ($79.00)

iRestore has a wow factor.
Use this device at home, work, or play.
This, by far, is the most popular hair regrowth device on the market. What are you waiting for? You do not have to pay the total amount. You can set up a payment plan with Amazon. Getting your hair needs back on track is easy.
When you own an iRestore laser cap, you will experience peace of mind.
My Rating Score:
I give the iRestore 9.5 stars out of 10
Rachele, Founder
w: mybluegenes.com
e: rachele@mybluegenes.com